Month:
March 2014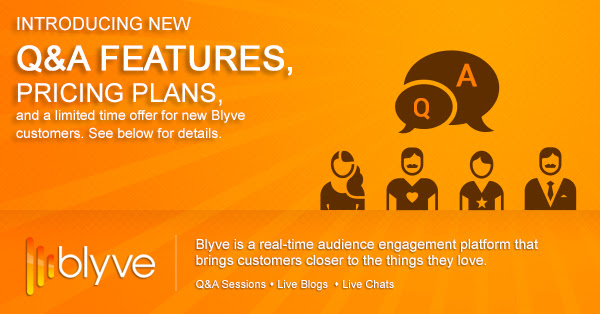 Join us for a live demo of Blyve's newest Q&A features on Monday 3/31 9am Pacific or Wednesday 4/2 at 2pm Pacific. Our CEO, Ramsey Ksar (@ramseyk), will be reviewing all the latest features, answering your questions and offering those in attendance an exclusive offer for signing up for Blyve this month. We look forward to chatting with you! Register today as space is limited.
Features to be discussed:
How to Host an Interactive Q&A Session with Multiple Panelists
Redesigned Q&A Panel for Trusted Users
Q&A Replies with Media
Better Statistics and Reporting
New Pinning Feature – Pin to the Top
New Live Map of All Attendees
LiveBoards -A Second-Screen Produced Event
Pay-as-you-go Pricing
Special Offer:
Those who attend will be eligible to receive a limited time offer of an additional 500 pay-as-you-go viewers.  Offer only applies to new Blyve Blogger or Producer customers.
Randy Ksar
Social Strategist
@djksar
We are excited to announce that our new billing system is now live!  You can now provision your own account and pay for Blyve directly within your "My Account" page with a credit card.  Once you're there, you'll notice we also introduced a new "Pay As You Go" model.  This will help quite a bit for those of you out there who do events only every once in a while.  Once you pick up a block of users, they are yours to keep until you use them.  Pay as you go users never expire.
We have also shifted the plans around a bit so be sure to check out your "My Account" settings for the latest and greatest.  We hope this goes a long way in improving your overall experience with Blyve!
New users: http://blyve.com/plans
Existing users: http://blyve.com/account/plan (you need to be signed-in)
-The Blyve Team
Hello Blyverati,
Just a quick note from your friends at Blyve.  
Over the past few days, Twitter has been sending us duplicate Tweets, as many of you have reported, which has caused some unanticipated frustration.  Unfortunately their documentation states that applications like ours "must tolerate duplicate statuses…".  Well, since this was the first time this happened in over 5 years, we decided now is the time to do something about it…and quickly.  
So, effective immediately regardless of what Twitter sends us, we now remove duplicates on your behalf. Additionally, we have introduced a few optimizations to improve overall performance in regards to Twitter.  Within your "event settings" module you will see a "Twitter Options" setting.  Once you open that, you'll see an option to "Show retweets", if you desire.  By default this is turned off as retweets (typically) add very little value to events as they occupy valuable real estate in both the Twitter Search and Pending Stream columns.  
For the feature trackers out there, we used to have an option to show/hide retweets but it wasn't very effective as the Tweets were still being pushed to your browser.  Now, those too are filtered out.  So if you follow a lot of Twitter accounts within your Blyve events, you should see a much cleaner, speedy interface (including those who search on popular terms).
Finally, we optimized a few other things around the pending stream (for those of you with popular events).  We are now caching comments requiring less calls to our servers, which in turn should increase the overall efficiency of your browser's performance.
In the end, most of these changes should be transparent.  Usually we don't mention these types of enhancements as they should typically go unnoticed and "just work".  In this case, we thought we should let you the details as the issue was consumer facing and rather unpleasant.
That's it for now.  Let us know how things are working, k?
Talk soon…
-Ramsey