Q&A platform
Thanks to everyone for joining the live Q&A and demo of Blyve earlier this week. We got some great questions and comments so I wanted to share those with you below as well as the recording of the screencast.
Questions from the Q&A Session: Q: Is the video module part of the Blyve platform (Fast forward to 30:17 in the video)?
A: Live videos from Google+ Hangouts on Air, Ustream, Livestream and YouTube can be embedded within your Blyve event. Just grab the iframe code and paste it within the media comment box.  For on-demand videos you can take any from Youtube, Vimeo, Vine or Instagram and paste the link within the stream and an inline preview will occur. For photos, you can link to your Dropbox account or to sites like Flickr.
Q: Can you respond to tweets within the Twitter module (Fast forward to 20:30 in the video)?
A: Yes! You can search for a particular hashtag or keyword on Twitter and respond to any users. At the end of the reply copy a Blyve event url will be appended so that you can recruit that Twitter user into the Blyve event. Note, if you are hosting the event on your website, the Blyve url will redirect to your website.
Q:  What happens if you outpace your plan? Does Blyve automatically charge you for the next tier of however many viewers you need (Fast forward to 41:00 in the video)?
A:  Great question! If you have a Blogger or Producer account, you will not be automatically charge. We will simply deduct your overages from the next month. At no point will your viewers be blocked from entering. Once you're event is over, you will need to wait until next month to create your next event or upgrade your subscription or buy some pay as you go viewers to hold you over until next month. You can read more here:http://blyve.com/help
Q: What support do you get for the blogger plan?
A: You'll get an audience development manager assigned to your account once you sign-up. We will help you customize the product to your specific needs and train anybody else on your team. In addition, we're available via email and thru our social channels (Twitter, LinkedIn, Google+ and  Facebook). We're here to help make your live Q&A sessions successful!
Randy Ksar
Social Strategist
randyk at blyve dot com
Follow @djksar on Twitter
P.S. We'll be doing another live Q&A session Wednesday 4/2 at 2pm PT – join us!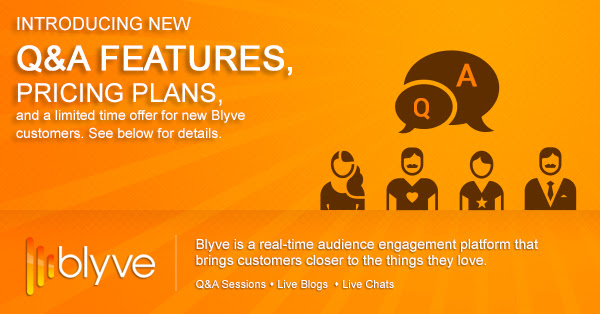 Join us for a live demo of Blyve's newest Q&A features on Monday 3/31 9am Pacific or Wednesday 4/2 at 2pm Pacific. Our CEO, Ramsey Ksar (@ramseyk), will be reviewing all the latest features, answering your questions and offering those in attendance an exclusive offer for signing up for Blyve this month. We look forward to chatting with you! Register today as space is limited.
Features to be discussed:
How to Host an Interactive Q&A Session with Multiple Panelists
Redesigned Q&A Panel for Trusted Users
Q&A Replies with Media
Better Statistics and Reporting
New Pinning Feature – Pin to the Top
New Live Map of All Attendees
LiveBoards -A Second-Screen Produced Event
Pay-as-you-go Pricing
Special Offer:
Those who attend will be eligible to receive a limited time offer of an additional 500 pay-as-you-go viewers.  Offer only applies to new Blyve Blogger or Producer customers.
Randy Ksar
Social Strategist
@djksar